We have two boy kittens to go out now, a cream McTabby boy, a red McTabby boy, and two girls, a lavender patched McTabby girl and a Brown patched McTabby girl. One of these has a deposit on it, but, If you are looking for a great kitten please let us know, and I will send you current pictures of them by email. They will be ready for their new homes end of Feb. or first of March.

sparvin@wctc.net
BrownpatchedMctabby
Gypsy and Spot
Both of these girls are wonderful, but we can't keep all of them. Health guarantee included. All Transportation costs will be the new Owner's resonsibility. May be good enough to show, still too young to tell. One kitten is a pet of the four. Either the red boy pictured below or a cream boy not pictured. Sheila
Red Mctabby boy
Gypsy and Spot
There is one white boy left, see his picture above this text. He is a doll!!
Beamerandpoints
Merry Berry kids
Here are some of the kittens that we have had in past litters. All are in their new homes now.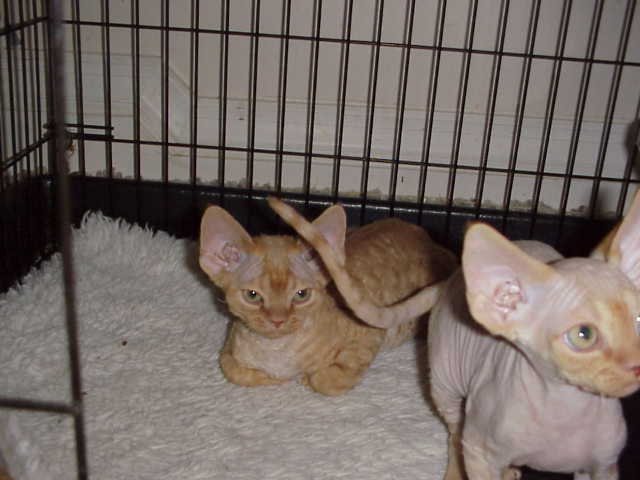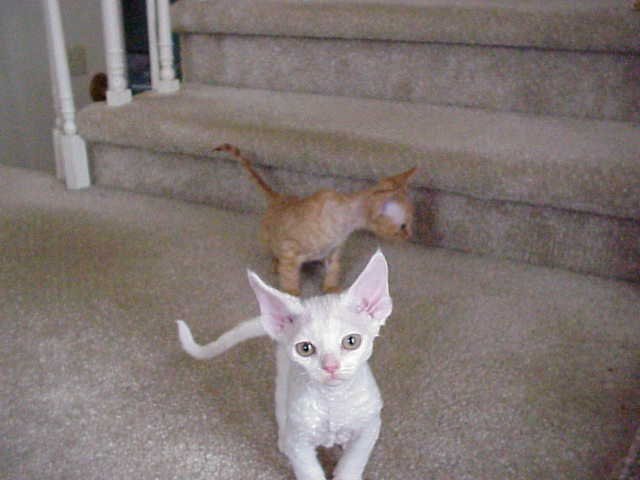 Spairit and Nadia's white boy
The black Kitten is Bond and he will stay with us. he was born at the Maroon Coon's home. So he is a Maroon Coon boy. His father was Levi and Mom is Sophie(she was Allie pictured down below on this page) The others are Fin's from Spirit.
Bond
LeviandSophie's Kitten
Inda and Poncho's girl
Actually 3 blue Mctabby/white girls this one a VAN
She above and he below are new kids
BlueMctabby/white
Poncho and Inda
Spirit and Finny's Gold Eyed white
The red girl On the left is Ginger Ro that we are currently showing and the cream boy has a new forever family as a pet.
The newest Kids
Cleo and Rhianna's Kittens
This is a Kitten from Betty Haden's (Sandspur cattery) She is from Michelin and Love Me Do
Sandspur's Faded Love
From Love Me Do's First Litter
She is in her new home now with Jimmie Hawley. Jimmie showed her to her Grand Championship and will now go on and spay her and show her to her (hopefully) Grand Premiership.
Technicolor Kokomo of MaroonCoons
These kittens were from Technicolor's Calliope and Doug Schmidt's girls. Doug bred 4 of his girls to Cleo, and these are the two Kittens that came to me from these breedings, plus Katrinka. Both Doug and I are extrememly happy with these two and Katrinka (who is on the Mom's page) and the 3 that Doug is keeping in his cattery (a lovely chocolate boy, silver boy and a blue cream girl). Thanks Doug, we both got wonderful kids to work with for the future. I went to Dallas and on my way stopped to see Susan Gage, and she really fell for this girl. Star has a lovely head, like Goldie's and with Doug's permission, as we both wanted this gal shown and wanted to give something to Susan, the girl on the left Meikai's Shining Star is being shown and is owned by Susan Gage. A kitten will come back to us from this little girl. Nadia is the choclolate tortie, and she will be bred to Levi when she gets old enough.
Shining Star
Cleo and Slyvia
Chocolatetortie
A Keeper also
The girls are taken, this little boy has been taken by Jill, I hope he enjoys her Troy and has a lot of fun playing!!
This girl is a wonderful girl. She has a wonderful personality and wonderful head. She would be a wonderful addition to a cattery. She carries points. (father and Grandfathers). She just got a Breeder and loved pet home with Babara Foster in Texas.
Taygan's little girl
Allie