The girls that give so much for us, and are such wonderful mothers. Remember this all started with Merry Sunshine. Some of her girls who are really producing or are Retired as Merry herself is, are: Merry Go Round Again, who gave us Cleo, Mary Grace Finny. PLEASE look down the page to see the Newest "outcross" Queens from Wonderful Catteries that we are adding this year!!
Down the line. Ch Technicolor's Golden Dawn, Grandmother, GC Technicolor's LoveMe do of Sandspur, mother, and now Sandspur's Faded Love of Technicolor. thank you Betty for this wonderful girl and also Pam and Mary Jo for use of their boy Alsace Michelin.
Sandspur's Faded Love of Technicolor
Alsace Michelin and Technicolor's LoveME Do
These two girls are from Wendy Renner of Dilettante Cattery. Thank you so much Wendy for letting me bring these girls to my home. I look forward to their kittens so much.
I am thrilled to introduce these two girls that came to me from a trade with Denis Downy, Kristen Harrison, Linda Petterson, and Kathy Rutledge. I sent kittens to them and I think we all feel like this was a wonderful move for all of us. Thanks so much.
Ch Taigerwings Tawny of Technicolor
This is Technicolor's Gypsy Spirit a girl from Spiritotum and Rhianna. She is 8 months old and we hope she will have some fabulous Kittens for us.
Spiritotum and Rhianna
Gypsy Spirit
This is a new Queen that was bred to Stole in Texas. She produced Technicolor's LoveMe Do of Sandspur. She is going to be rebred to him again. She was the BEST DEVON REX KITTEN at the CFA INTERNATIONAL in 2001. TECNICOLOR"S GOLDEN DAWN (see her almost adult picture below)
Goldie Winning BEST DEVON REX KITTEN
At the CFA INTERNATIONAL 2002
GC Technicolor's Little Bandito produced 4 kittens with Ch Technicolor's Top Cat One of these just missed out of third place by a tenth of a point at the International. She is Shown (she Granded her) and loved by Terry Brown who owns her, and still Breeds her. We are really excited about her pregnancy to Stole. They should be wonderful Kittens.
This is Technciolor's LoveMe Do and her wonderful Profile. She is owned by Betty Haden, and very well loved.
Technicolor's LoveMe Do of Sandspur
Katrinka and Nadia both from Doug Schmidt. Nadia's father was Technicolor's Calliope. Katrinka is from Doug's Breeding pair. They will both add to our Breeding program. thanks Doug
Meikai katrinka of Technicolor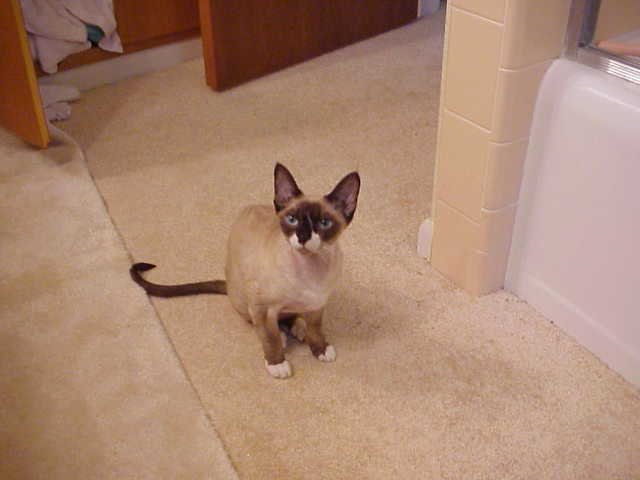 Mom of current litter
This is a new Queen who will be bred this spring to BOND. She is owned by Jessie Nerenhausen. Her name is Briarson's WorthEveryEuro. Brian Pearson and I co-own her mother. She ia a wonderful girl and Jessie really loves her.
This is Ginger and she will be bred this year to Bond. She is a really sweet girl, and we will be looking forward to her babies.
Technicolor's Calliope and Technicolor's Rhianna
Technicolor's ginger Ro