These are young girls. Some raised here and some not. I work with other Breeders in order for all of us to keep our numbers down so that all our Breeder cats can feel just as much a part of the family as any pet does. They will all end up as Pets after their Breeding days, either with us or with Loving families. They are retired very young and make wonderful pets. Also, some are retired after we have really added to our cattery program (which is always ongoing) We might keep two brothers or two sisters for a little longer period of time (up to six months or so) If we decide that we cannot use one of them, and other established Breeders cannot either, then they will get petted to a show home (Premier class) or to a wonderful pet home.
And Now some of the NEW girls on the block!!
This is the newest girl from Technicolor's Poncho and Sandspur's Inda of Caliente.
I like this girl even when she is sleeping, she really has the 3 circles right now. Her name is Technicolor's Love Song
These are two of Cleo's girls. The one on the right will be bred to Spot this fall.
Technicolor's Cleo and Technicolor's Rhianna Alene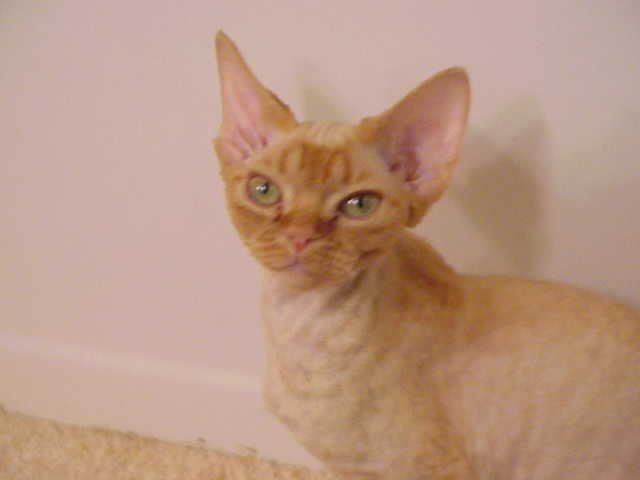 Technicolor's Ginger Ro
Technicolor's Golden Dawn. Best Kitten at the CFA International show!
Technicolor's Golden Dawn, who now resides with Betty Hayden is this girl's Mom. Goldie's picture is just above Loveme Do's. Below is her Kitten Technicolor's LoveMe Do of Sandspur. Her Brother Gave us Bond
A Super Little girl!!! In fact we call her Technicolor's Supergirl. She now resides with Mary Jo Bailey. We hope she makes wonderful kittens for Mary Jo.